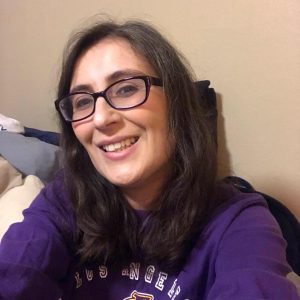 Hi Everyone! I'm Patrice and I'm the Graphics Gal. I have always loved to create invitations. There's no way to describe how honored and special it is that, through designing invites, I get to be a small part of the milestones and memories in people's lives. Truth is, I've been creating invitations for friends and family long before I ever started working as an independent graphic designer. I've been designing on my own since 2011 when I opened Purple Rose Graphics. After nearly 8 years of creating beautiful custom invitations and marketing materials for businesses as Purple Rose Graphics, I realized the invitations needed a home of their own. That is how The Graphics Gal was created! (which also happens to be one of my favorite nicknames from clients.)
How did I get into this? well…It was a hot August day sitting with my mom in a dusty party supply store. I was a teenager. My family was preparing to host a party to celebrate my transition into womanhood, I wasn't very old and I certainly didn't feel like a woman yet. After all, I had to get through school first. The part of that whole party that I really clearly remember is sitting with my mom flipping through book after book of invitation choices. Honestly, I don't remember liking any of them. They were all nice, just weren't what I wanted. Ultimately, we picked a cream-colored invitation with pink roses down the side. This moment changed my life because I fell in love with this type of art and knew that somehow I wanted to make invitations. I also knew there had to be a better way to get exactly what you want without spending six-months rent on them and without scrolling through dozens of options or using a string of expletives as you try to figure out how that pesky craft store invites fit in your desktop printer.
It's been 20 plus years since I sat in that party supply store picking out cream-colored invites from the largest book I've ever seen. I've now made invitations for dozens of people and organizations, including my own wedding invitations using a system that everyone tells me is so much better. I've never been one to follow the crowd, preferring to do what I thought was right not what everyone else was doing. I thought for sure by now they would have a better, easier way for this necessary detail in the party planning process. Imagine my surprise, when I got married a few years ago, and I discovered the giant book of yesteryear had turned into endless pages on endless amounts of websites. Otherwise, most of it was still very much as I remembered from that hot August day. Meanwhile, my customers were enjoying a better way. A flat rate for custom invitation sets that look how they want. I even have some easy "DIY" and budget-conscious options now too! Come say hello! After all, Invitations get the party started!